Expert care to overcome your Trauma
Get a personalized treatment plan online and start feeling like you again with medication, therapy or both.
*Call for a free and confidential assessment. Insurance may cover 100% of the cost.
We accept PPO insurance from these providers and more
70% of adults in the U.S. have experienced some type of traumatic event at least once in their lives. That's 223.4 million people.
Trauma is a normal reaction to a horrible event; however, depending on the situation, the effects can be so severe that they interfere with an individual's ability to live everyday life.
Trauma is a pervasive problem. A direct result from exposure to an experience, incident, or series of life-threatening events has had lasting adverse effects on the individual's ability to function appropriately, including mental, emotional, physical, and/or spiritual well-being.
Typically, feelings such as denial and shock are to be expected. However, long-term reactions can become an event's severity enough to threaten the individual's physical and emotional security, leaving an ever-lasting imprint on the individual's mind. If not addressed by a medical professional, the acute trauma can seriously impact how a person thinks and behaves. 
Acute Trauma:
Individuals diagnosed with acute trauma will usually feel distressed from a single situation or event such as a natural disaster, terrorism, sexual assault, horrific accident.
The situation that the individual experiences or witnessed would have been traumatic enough to ultimately threaten a person's physical and emotional security leaving a long-lasting distressing mental image in the individual's mental state.
Chronic Trauma:
Individuals are exposed to prolonged, long-term distressing, traumatic events over an extended period. It is a direct result of long-term exposure to adverse events such as extreme bullying, domestic violence, sexual abuse, and war. Acute trauma, if untreated, can often progress into chronic trauma. The symptoms can be deeply distressing; individuals will need a qualified psychologist to make a recovery.
Complex Trauma:
Complex trauma is a result of exposure to multiple traumatic experiences or events. Individuals who experience such trauma are often victims of neglect, domestic violence, child abuse, and other adverse repetitive situations.
No matter the type of trauma, if an individual is struggling to recover from a distressing experience or multitude of events, they will need to seek the help of a qualified psychologist.
Signs and symptoms of Trauma
Park Mental Health San Diego has successfully helped thousands of individuals every year regarding their Trauma. With the correct treatment and support from medical professionals and loved ones, we can work together to overcome your Trauma disorder.
Every one of us reacts to Trauma differently. There are a vast amount of both emotional and physical symptoms that a person may experience. There is no right or wrong way to feel, think, or respond, so don't ever judge your reactions to others. Your responses are perfectly normal reactions to an adverse and abnormal event.
Mental signs and symptoms to look out for:
Confusion, difficulty concentrating
Feeling disconnected or numb
Physical signs and symptoms to look out for
Visual images of the events
How our body reacts to a dangerous situation
Every one of us reacts to trauma differently. There are a vast amount of both emotional and physical symptoms that a person may experience. There is no right or wrong way to feel, think, or respond, so don't ever judge your reactions to others. Your responses are perfectly normal reactions to an adverse and abnormal event. 
The treatment you will be offered here at Park Mental Health San Diego will wholly depend on your particular symptoms, diagnosis, and own unique goals and needs. However, the essential factor that will help an individual when dealing with trauma is time and patience. You will need to keep an open mind and explore with your therapist various options that may be beneficial.
Below we have listed how various individuals will react to a dangerous situation. There is no right or wrong way to respond when faced with a potentially dangerous or traumatic situation. Your body reacts in the best way to protect you.
Fight mode
An individual who experiences flight mode will begin breathing very deeply, increasing their heart rate. This is to ensure the body is provided with an adequate amount of energy and oxygen for a rapid response to the presence of danger. Trembling may further occur, the muscles are preparing for immediate action.
Flop mode
Individuals who experience the flop mode are similar to your body freezing, but instead of becoming frozen, the muscles within your body become loose and, for a temporary period, weak. This response can often reduce the amount of physical pain felt if the dangerous situation becomes violent. To protect your mental state both in the moment and in the future, your mind will often shut itself down.
Freeze mode
If, as a child, an adult was commonly exposed to a vast amount of anxiety and fear either due to a single or ongoing traumatic event, the most likely response to a dangerous situation is called freeze mode. Mentally you see the danger but have become paralyzed with fear that you can not move.
Flight mode
When an individual is exposed to trauma, their response may be to run or hide to protect themselves immediately. Your mind will completely take over, and you will often run faster than you ever have, jumping into a safe place in a way you could never imagine. People will often perform in fight mode in ways they never believed possible.
Many studies have demonstrated that even once the traumatic situation is over the stress, the ping you highly alert and anxious. Additionally, this can further affect how you may respond to a normal situation. Your emotions, behavior, thought process, and emotions will all be on high alert.
Take the first step towards feeling like you again
A traumatic situation, whether a persona tragedy or a global crisis, can take its toll on your emotions. It can cause an immense amount of stress, leaving your sense of security feeling completely shattered; however, there are ways for your to regain control over your life again.
If you find that your or a loved one's trauma symptoms have become so severe that it has begun to hinder their day-to-day life, we would advise you to seek medical help immediately.

Overcoming a traumatic situation can be a complicated process, but there is light at the end of the tunnel. With the correct treatment for your specific symptoms, experience, severity, and lifestyle, you can learn to manage your fears and paranoia and live a productive and fulfilling life with your loved ones.
Treatment for trauma will wholly depend on the severity of your symptoms and the underlying cause. Your psychiatrist may recommend medication, therapy, or a combination of the two.
Seeking help is the first and most challenging step. The psychiatrist here at Park will run you through a complete analysis so they can understand the severity of your symptoms, duration, content, and the impact it is having on your life currently. We need to know further if you are taking any medication, your medical history, and your family.
If you have found yourself or a loved one experiencing any of the signs or symptoms of anxiety, please do get in contact with a member of our team to receive the care and help you need.
Recovering from Trauma Tips
If you have witnessed or experienced a traumatic event, you can typically see the symptoms lasting anywhere from a few days to a few months. The severity of the symptoms will gradually fade; however, the processes can be tiring and somewhat unsettling.
The effects of trauma will completely disturb your body's natural equilibrium leaving you in a state of fear and hyperarousal. Exercise and movement can be helpful in repairing your nervous system but burning off adrenaline and releasing endorphins from your body. Below we have listed a few activities that have helped customers in the past.
Therapy Treatment for Trauma
A whole range of therapy treatments and techniques is available for an individual suffering from trauma disorder. One of the most effective treatments we have seen with our customers has been a therapy called Eye Movement Desensitization and Reprocessing (EMDR), which involves making rhythmic eye movements while recalling a traumatic event or situation. It has quickly become the most commonly used therapy treatment for trauma-related stress.  Additionally, you explore further therapy options such as Trauma-focused cognitive behavioral therapy, Cognitive analytic therapy (CAt), Schema therapy, and many other options.
Attending therapy sessions to tackle your trauma disorder can help give your life structure and support through stressful and challenging situations. Park Mental Health has a team of expert medical professionals who can design a treatment plan specifically for you. Therapy can be helpful to develop practical ways of dealing with your trauma. Therapy can further help you develop:
Trauma is a complex disorder that affects each one of us differently, which is why we offer bespoke evidence-based approaches to help you develop skills effectively to aid you in breaking the negative cycles.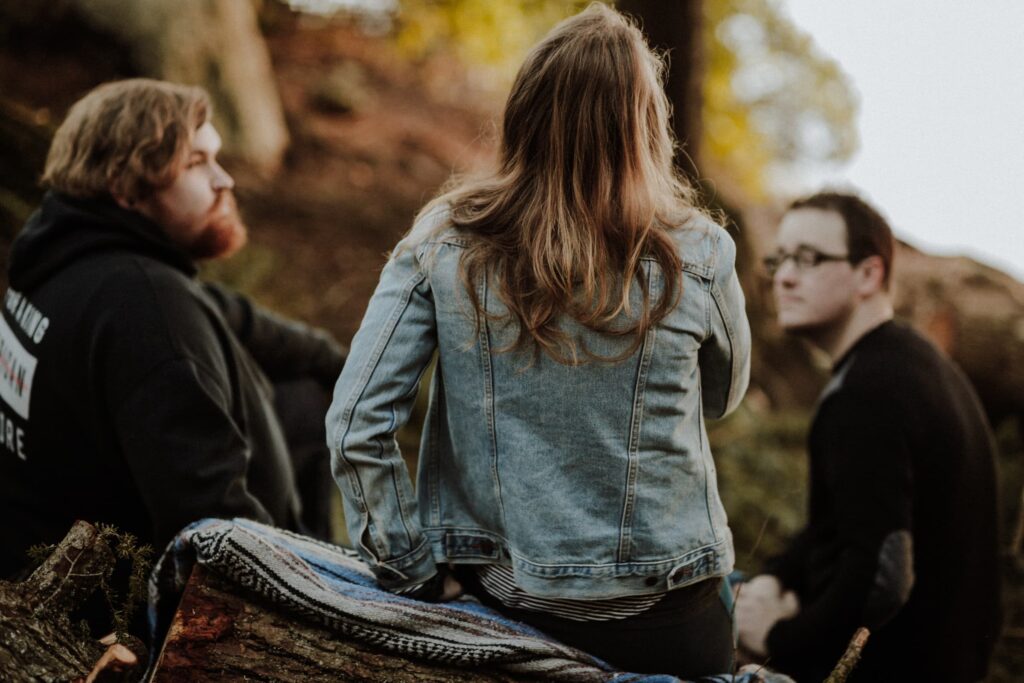 Medication Options for Trauma
The medication that your medical professional will prescribe will ultimately depend on the severity, duration, and symptoms of the individual's trauma disorder. Antidepressant medication is generally the type of medication that individuals will be prescribed based upon analysis.
Many people do not enjoy taking medication for their disorder and believe they have to hide; however, there is never any shame in taking medication to help cope with the symptoms of your trauma disorder.
Due to individuals experiencing unique symptoms, receiving the best results requires analyzing each person to the most effective medication.
Our medical professionals at Park will constantly research and finetuning treatment to ensure the individual response is at maximum effectiveness.
To ensure you receive the best results, your progress must be measured periodically. This allows us to make informed decisions based on data regarding your treatment.
Types of medication available for trauma disorder
There are specific antidepressants that can help control an individual's trauma disorder and, on occasion PTSD symptoms; however, it needs to be remembered that taking medication is not a cure for the trauma disorder but a way to help an individual cope with the symptoms they are experiencing.
Antidepressants approved but the U.S. Food and Drug Administration (FDA) to treat trauma disorder can include:
Additionally, your medical professional may want to prescribe you other antidepressants and psychiatric medication depending on the severity of your disorder and how you are responding.
Getting started has never been so simple.
Together we will help you feel like yourself again. By following the below three steps, we can get you on the road to recovery. We are looking forwards to meeting you and working on understanding how we can effectively benefit your life.
Your most frequently asked questions, answered.
What areas do you cover?
Do you provide outpatient care?
How do I get in contact?
What areas do you cover?
What areas do you cover?
Park Mental Health Treatment covers the San Diego, California area. If you are unsure of whether you are near our facility, please either submit an online form or alternatively contact a member of our team today on 866-420-2524.
Do you provide outpatient care?
How do I get in contact?
What areas do you cover?
911
If you're having a medical or mental health emergency, call 911 or go to your local ER.